Every PC in use today has a small piece of hardware built into the chipset that is known as a real-time-clock. This is a piece of hardware that keeps accurate track of time even when the PC is turned off. This little piece of hardware is used by all benchmarking programs to keep an accurate track of time to determine how well a system performs. Unfortunately, Microsoft decided to change things up in the way their software accesses the real-time-clock in Windows 8, and as a result, popular benchmarking results website HWBot has made the decision to ban the operating system from their results.
The issues arise when users attempt to change their clock frequencies in software and not at boot time. By changing the CPU-based clock frequency , the software algorithms that Windows 8 employs to keep track of time are massively skewed, which greatly hinders Windows 8's ability to keep accurate time. YouTube user Massman89 has posted a video that demonstrates this by underclocking the BLCK from 130 MHz to 122MHz. In the video, Windows 8 loses track of time by 18 seconds over a five minute period. If you increase the clock rate by 6 percent, Windows 8 internally gains 18 seconds.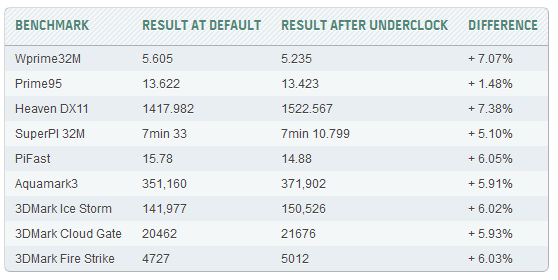 These extra 18 seconds per five minutes means that a benchmark that is set to run for five minutes will actually run for five minutes and 18 seconds, giving the benchmark an extra 18 seconds to render 6 percent more frames or complete 6 percent more floating-point calculations. This skews the benchmark score by around 6 percent. While some may see this as an easily fixable issue, HWBot is taking things quite seriously and has decided to ban Windows 8 results altogether.
In a statement, HWBot said that it is "impossible to verify the veracity of a system performance under Windows 8, and thus benchmarks performed under Windows 8 will no longer be accepted." To read the full report head over to Source #1.
In order to compare we need the RTC bias to be equal for all systems. With Windows 8, we can only use question marks.

Practically speaking, it is not allowed to:

exploit the Windows 8 RTC for benchmark purposes

submit any benchmark results with RTC bias

The HWBOT staff will:

Block any seemingly out-of-line Windows 8-based benchmark results

Block any Windows 8-based benchmark record, even if the score seems in line with the expectations

We hope that everyone is willing to adhere to these new guidelines. The HWBOT Staff is as passionate as you are about overclocking, and this kind of external problem is affecting our hobby in a way that makes we cannot easily resolve. We are friends amongst each other, and respect the effort your fellow overclockers put into overclocking results.

Thank you for your understanding.

The HWBOT Staff.