At the Flash Memory Summit 2013, LSI SandForce gave us a teaser of one of the new features that will be featured on the next generation of SandForce flash storage processors.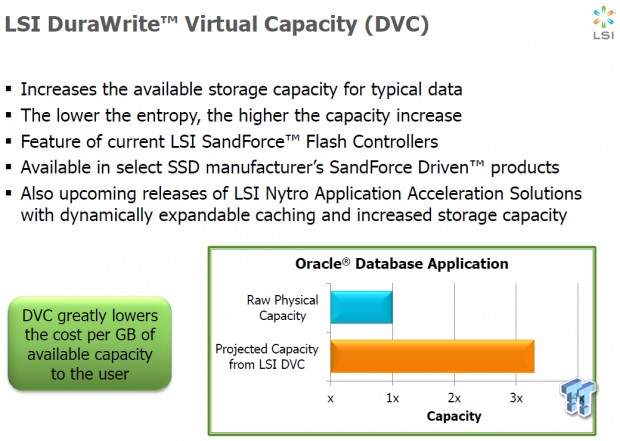 One of the most exciting new developments is the ability to reclaim some of the extra capacity provided from LSI SandForce's DuraWrite engine. With their compression engine, LSI SandForce's flash storage processors actually write less data down to the NAND than what was sent from the host. In current products this delivers excellent increases in both endurance and performance, with the controller effectively utilizing the extra space as bonus overprovisioning.
LSI SandForce has decided to hand some of that excess capacity back to the customer by allowing users to use this 'hidden' extra spare area on the SSD. The new DuraWrite Virtual Capacity (DVC) feature dynamically adjusts the amount of extra capacity available to the user determined by the amount of data compression.
In some enterprise applications, this can result in a tremendous amount of extra capacity. Some workloads, particularly OLTP and databases, are inherently compressible. This high level of compressibility can equate to triple the normal capacity of the SSD. Amazingly this very same technology is being offered proactively to existing LSI SandForce SSDs as well.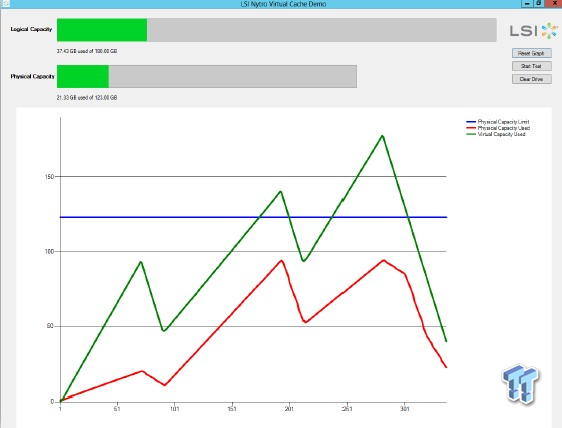 In the live demo at FMS 2013, we were shown that this isn't on the horizon, LSI SandForce already has this system up and running. The only issue with DVC is the operating system, which has to be tuned to allow for the dynamic adjustment of capacity. As of yet this is still in development for mainstream operating systems. One very positive avenue for this type of technology will be in enterprise environments where many of the large players utilize open source and custom operating systems. These sectors can adjust and capitalize on these type of features in a more expedient manner.