RumorTT: AMD working on 12-core, 6GHz, AM4-based processor
RumorTT: Are AMD working on a new superstar CPU? Leaked details reveal 12-core, 6GHz, AM4-based, 25nm 'Baeca' CPU.

Published Tue, Aug 6 2013 3:45 AM CDT
|
Updated Tue, Nov 3 2020 12:21 PM CST
Ok, before you read this post, please make sure you've gone to your cupboard and picked up your salt, because you're going to need it. Over at the Chiphell forums, it looks like some users have found some details on a CPU from AMD.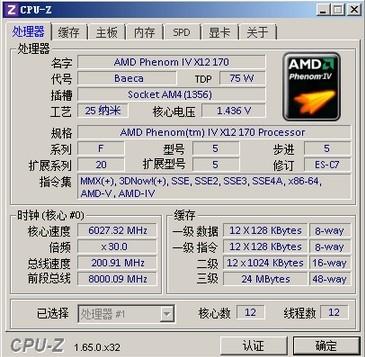 Considering AMD aren't releasing their 28nm Steamroller-based "Kaveri" APUs until next year, I'd like to know where this new processor is coming from. The new processor in question is codenamed "Baeca", or the Phenom IV X12 170 processor, on a 25nm process. This processor is pretty incredible, with 12 cores and a base clock speed of 6GHz.
All of this is wrapped into a beautiful 75W package, and includes 24MB of L3 cache. The new processor would come with a bunch of new instruction sets, including 3DNow(+), AMD-V and AMD-IV. The new processor would also arrive on the AM4 socket, which is a 1356-pin variant. The leaker of the information has said that this processor would launch in the second half of 2014, after AMD launch their new Steamroller-based Kaveri APUs.
Related Tags