This morning Google announced the release of a new media streaming dongle dubbed Chromecast. The small $35 HDMI dongle mirrors content that is being played on a nearby smartphone, computer or tablet. Coming in at just 2-inches long, the device plugs directly into your HDTVs spare HDMI port.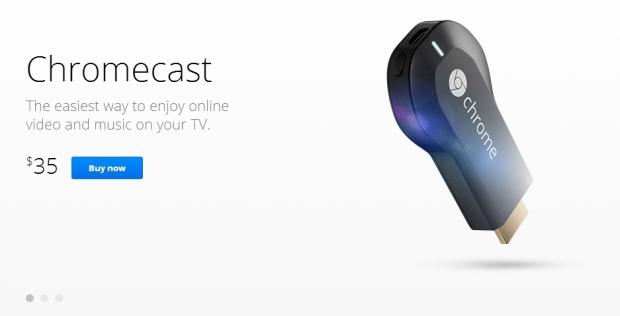 The device is able to run certain apps and if you are an early adopter, you will get a free three month Netflix subscription. Google says that Chromecast runs a simplified version of Google's Chrome OS and unfortunately, it will require a separate USB power source. The device features 802.11 b/g/n Wi-Fi and comes with an HDMI extender, a USB cable and a USB power source.
Chrome apps that work with Chromecast will feature a "cast" button that will push the video feed to your Chromecast connected television. "Once Chromecast is plugged in, you just go to YouTube on your smartphone," Google reps said. "You'll see the cast button in your UI and you press it -- Chromecast will pull the info you requested from the cloud and play it on your TV." Google demoed the device at this morning's breakfast event and showed how Chromecast could display a YouTube video from your tablet onto your TV, and still allow you to use other apps on your tablet at the same time.
I just ordered mine and it should be here early next week. Keep an eye on TweakTown for a full review of the device. At the moment Chromecast is available on the Google Play Store for $35 and will launch in Best Buy stores on the 28th.