A few months back, Yahoo announced the creation of a new menu bar that would be shared across all of its desktop website services such as mail, search, and photo sharing. Many scoffed at the idea, but others pointed out that Google has been doing the same thing for some time. This morning, Yahoo rolled out the new menu bar to its recently reinvigorated photo sharing service Flickr.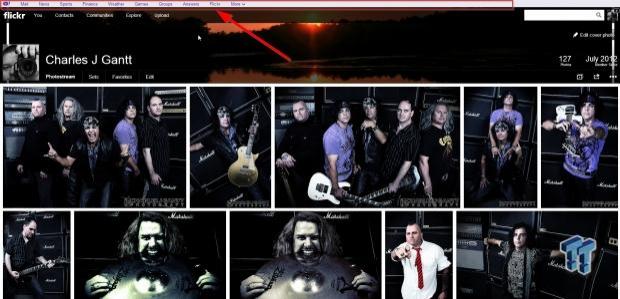 While the new menu bar is technically a useful feature, many Flickr users are not so convinced and as a result, they have taken to the Flickr help forums to vent their disdain. One user wrote "Gosh, what a design disaster...if that annoying bar would at least fit the site design wise at little. Yahoo has learned nothing in the last decade as it seems. Dropping pro account now. Sorry guys, this is just too much."
Historically, I have not been a major fan of Flickr, but have recently flipped a 180 when the service began offering 1TB of free storage to its users. As an ex-professional photographer who still does small shoots on the side, this new amount of storage was very appealing to me. The new integration of this menu bar in its current form is definitely not appealing to the eyes, nor is it in any form inline with the refined, dark theme that Flickr has been sporting since the update.