Computex Taipei 2013 - I spent all day at the Grand Hyatt in Taipei seeing all the companies who are in attendance at the show in that building. Our first stop was at NZXT where they showed a range of new power supplies and also the new Phantom 530 chassis - a replacement of the original Phantom that was also released at Computex some years ago.
What really impressed me was its new prototype water cooling gear for video cards. These new coolers are compatible with any Asetek-based water coolers such as the NZXT Karken X40. The system was setup cooling two NVIDIA GeForce GTX TITAN video cards with coolers that feature steel brackets and two 90mm cooling fans on each video card.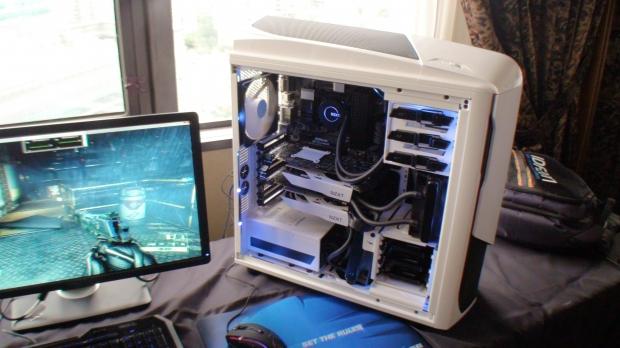 They had Crysis 3 running at ultra settings and the GPU temperature was around 40- 50c, which is a big drop in the stock cooling by up to 30 - 40 degrees Celsius. We're looking forward to doing full reviews of the 530 and new cooling gear when it comes to market.