This morning, Palit released its version of the GeForce GTX 770 and unlike other GPU manufacturers, Palit chose to toss away the reference design cooler and add their own JetStream cooler into the mix. The result is said to be a 10 percent gain in overclockability as well as some snazzy good looks!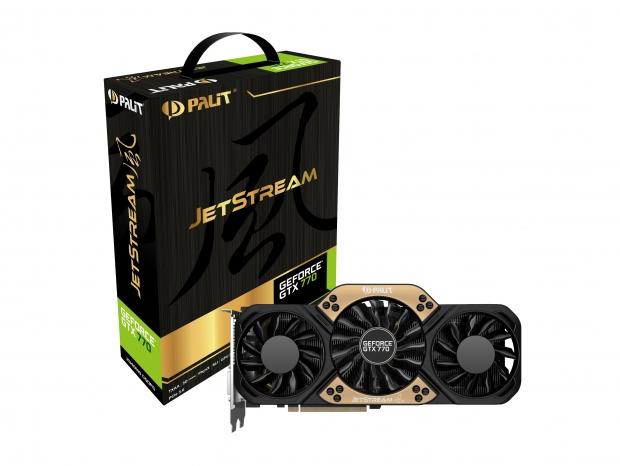 The Palit GeForce GTX 770 JetStream 2GB ships with a 10 percent higher core clock, which Palit says equates to 10 percent higher gaming performance. Like other video cards in Palit's JetStream line, the GTX 770 comes equipped with the company's signature JetStream 80mm,90mm,80mm triple fan bank that cools the GPU by 15 Celsius lower, and is 9dB quieter than the reference design.

Palit attributes these performance gains to several upgraded features on the GTX770 JetStream 2GB. These include:
Copper Based Heatsink - Efficiently dissipate the heat from GPU and make 20 percent cooler

8 Phase PWM - Stabilize the voltage level the improve overclocking ability.

MasterMode - GPU Overvoltage and Memory Overvoltage to increase extra 5+ percent performance.