Corsair talks Haswell power supply compatibility
Corsair explains PSU compatibility with new Haswell CPU's, lists which of theirs are compatible.
Published Fri, May 10 2013 2:31 PM CDT
|
Updated Tue, Nov 3 2020 12:23 PM CST
Corsair has posted up a new blog post that discusses power supply compatibility with Intel's upcoming Haswell microarchitecture. The general gist of the blog post is that most of Corsair's power supplies are compatible, but it also delves into why certain power supplies might not be compatible.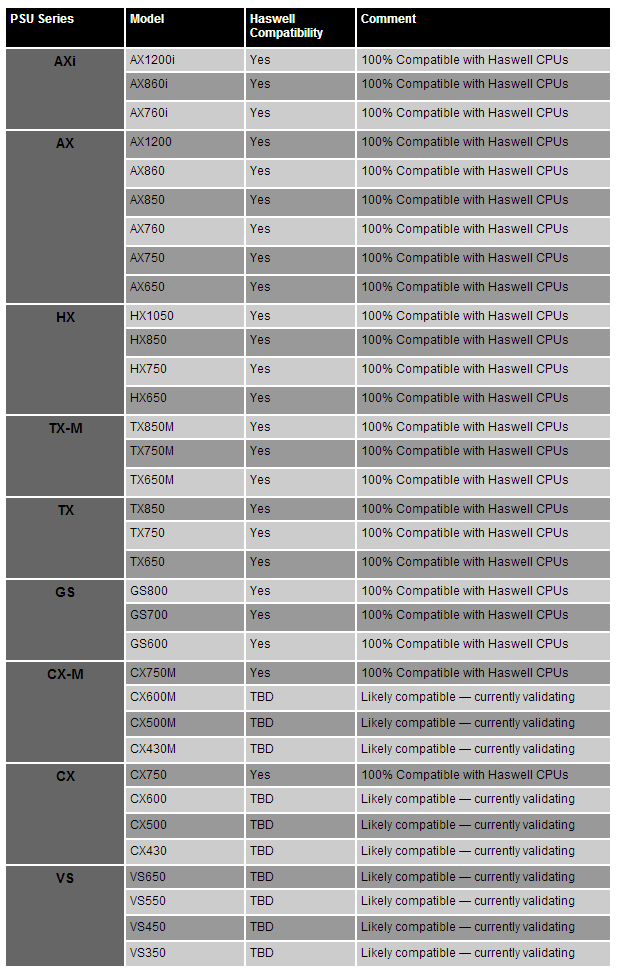 For those readers who are interested, the list above is all of Corsair's compatible power supplies. As you can see, a large portion of Corsair's power supplies are compatible. But why is this important? Haswell's C7 sleep state drops power consumption by so much--down to as little as 0.05a--that some power supplies aren't compatible. Corsair explains:
According to Intel's presentation at IDF, the new Haswell processors enter a sleep state called C7 that can drop processor power usage as low as 0.05A. Even if the sleeping CPU is the only load on the +12V rail, most power supplies can handle a load this low. The potential problem comes up when there is still a substantial load on the power supply's non-primary rails (the +3.3V and +5V). If the load on these non-primary rails are above a certain threshold (which varies by PSU), the +12V can go out of spec (voltages greater than +12.6V). If the +12V is out of spec when the motherboard comes out of the sleep state, the PSU's protection may prevent the PSU from running and will cause the power supply to "latch off". This will require the user to cycle the power on their power supply using the power switch on the back of the unit.

While we are still working with Intel on the details of the testing methodology they use to check PSUs for Haswell compatibility, it is already known that a power supply that uses DC to DC for the non-primary rails (the +3.3V and +5V) will not have an issue with the new low power sleep states. This is because a DC to DC buck converter is used to convert +12V to +3.3V and +5V. This means that no matter what load the CPU puts on the power supply, there will always be a load on the +12V because the +12V is required to provide power to +3.3V and +5V.
Related Tags