After Apple released their Q2 2013 earnings yesterday, market research firms have dived head first into the numbers, churning out some interesting facts. Strategy Analytics were one of the first to start shoving numbers out, with a report released late last night.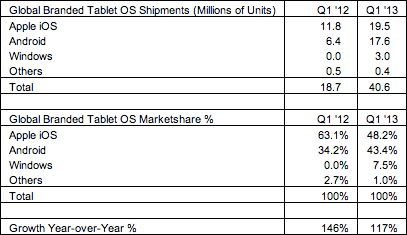 Apple sold 19.5 million iPads in the three-month period, taking 48.2% of the global tablet market. This may sound impressive, nearly 50% of the global tablet sales are iPads - but let's rewind twelve months and look at the same quarter of 2012. Apple were enjoying a huge 63.1% of the market, meaning that we've seen a gigantic drop in Apple's dominance of the global tablet market.
If we look at Android in the same way, last year they took 34.2% of the global table market, but now they've jetted up to 43.4%. What is Apple's loss, is Google's gain, in more ways than one. We do have Windows, which isn't actually doing too badly, jumping from 0% last year to 7.5%, so Microsoft are even benefiting from Apple's slide.
Where can Apple go from here? It seems they're going to have to unveil something quite extraordinary to even get half the market share lost, without considering taking all of the market share lost, or even build on their numbers and make a comeback.