Today was a big day for Apple as they released their second quarter financial results. Apple's stock has been in a free fall as of late and this quarter's earnings needed to be good for Apple to stop their stock from falling any further. The official numbers are in and Apple pulled in a quarterly revenue of $43.6 billion, up from $39.2 billion for the second quarter of last year.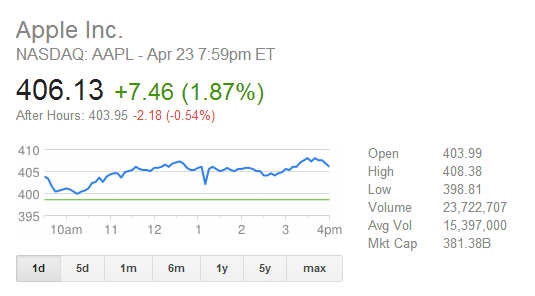 While revenue was up, profit was down. Apple pulled in a net profit of $9.5 billion, down from $11.6 billion from the same quarter last year. Apple sold 37.4 million iPhones and 19.5 million iPads. During the same period last year, Apple sold 35.1 million iPhones and just 11.8 million iPads. Mac sales continue to be flat, with Apple selling just shy of 4 million units during the quarter.
Apple's stock price increased by roughly 5 percent during the conference call. It will be interesting to see how the stock fairs tomorrow during normal trading.
Tim Cook:
We are pleased to report record March quarter revenue thanks to continued strong performance of iPhone and iPad. Our teams are hard at work on some amazing new hardware, software and services, and we are very excited about the products in our pipeline.