Not all that glitters is gold, and this morning Bitcoin investors who traded on the Bitfloor Bitcoin exchange are waking up to that hard to learn lesson. Bitfloor has announced that it has been forced to cease all operations due to reasons "outside of our control."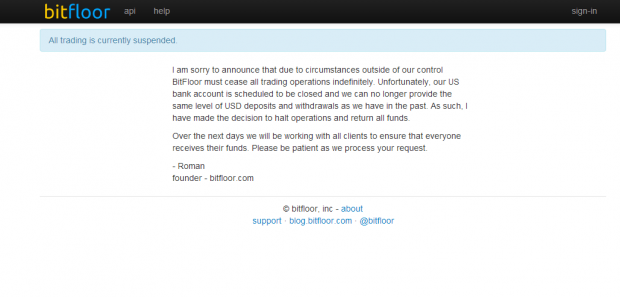 Bitfloor, while not as popular as Mt. Gox, was still a key player in the Bitcoin game. In the wake of last week's Bitcoin crash, the exchange has had its bank account closed and as a direct result, must end all trading. We are guessing that when the massive sell off was over, the bank deemed Bitfloor too much of a risk and opted to part ways in an act of self-preservation.
Roman, the founder of Bitfloor, had the following to say:
"I am sorry to announce that due to circumstances outside of our control BitFloor must cease all trading operations indefinitely. Unfortunately, our US bank account is scheduled to be closed and we can no longer provide the same level of USD deposits and withdrawals as we have in the past. As such, I have made the decision to halt operations and return all funds. Over the next days we will be working with all clients to ensure that everyone receives their funds. Please be patient as we process your request."
With last week's crash, the current value hovering in the $80 range, and now this closure, could we be seeing the beginning of the end of the popular virtual currency? I want to know your opinion. Leave a comment below with your thoughts on the matter.