Future batteries could be made from liquid metal, no T-1000's in sight thankfully
Liquid metal could be the future of batteries, first prototype could be ready by 2014.

Published Mon, Apr 15 2013 7:33 AM CDT
|
Updated Tue, Nov 3 2020 12:23 PM CST
One thing that annoys most, especially me, is that I want an all-day (all-week preferably) battery life on my devices. Running a quad-core smartphone with all the trimmings is great, but charging it every night is not the ideal thing for me.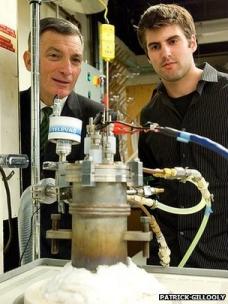 New technology is required, and this is where the Massachusetts Institute of Technology steps in, with Professor Donald Sadoway's new research - liquid metal batteries. Professor Sadoway told BBC News:
At least 18 months from now, we'll have something we can put in the hands of an independent assessor. We want to make sure we've got something that's durable and will perform to specification. This is a very tough market to get into. We can't afford to have a failure because something wasn't quite right. That could tarnish the image of the technology to the point where it would be set back irreparably.
Professor Sadoway's concept uses liquid as a key component, where a molten-salt electrolyte is sandwiched between two liquid metal electrodes. From here, a dense positive electrode lies at the bottom of the battery, while a low-density negative electrode floats atop the electrolyte. The difference in composition between the two liquid metals gives rise to a voltage.
Professor Sadoway's concept has seen $15 million of investment from some big figures in the world - Bill Gates, Total and Khosla Ventures, run by Sun Microsystems' co-founder Vinod Khosla.
Related Tags