A new malware has been discovered by Kaspersky labs. The new malware spreads through Skype and turns the victim's computer into a Bitcoin miner. The victim's machine is then fully loaded to mine Bitcoins which is how the malware author makes money from the software.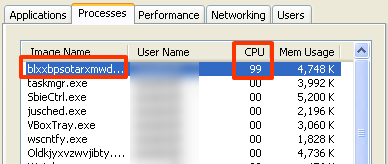 The malware currently has a low detection rate. Kaspersky now identifies the malware as Trojan.Win32.Jorik.IRCbot.xkt. The malware is downloaded from a server in India. Once on the victim's machine, it pulls down more files from Hotfile, one of which is a Bitcoin mining application.
Bitcoin mining, explained more in-depth by Bitcoin, is a processor intensive task. The victim's CPU will be fully loaded mining Bitcoins, which are then given to the author of the malware. These Bitcoins are then used to turn a profit.
To stay safe, be sure to update your anti-virus software often and don't click any random links received via Skype.