Microsoft's next generation Xbox has long been rumored to feature Always On DRM protection, and after recent events with SimCity and Diablo 3, many gamers are seeking to put an end to that sort of DRM. Yesterday Microsoft Employee Adam Orth took to Twitter to vent his frustrations with the anti-DRM crowd.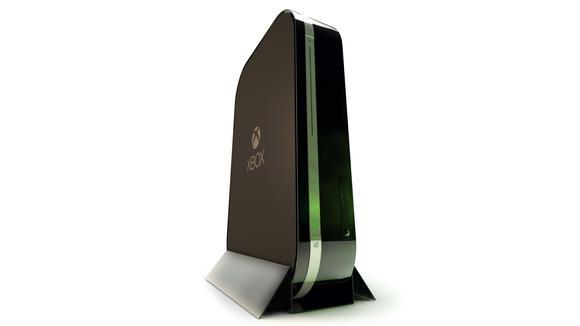 Orth, a Creative Director at Microsoft, went on a tirade blasting opponents of Always On DRM saying "Sorry, I don't get the drama around having an "always on" console. Every device is now "always on" that is the world we live in, ending the tweet with the hashtag, #dealwithit. This led some people to point out the debacle that EA recently went through with SimCity and asking what happens when the internet goes out.
Orth replied, "Electricity goes out too." This led to a follow up reminding Orth that some locales such as rural areas are often not well connected and do not have internet connections at all. One tweeter said: "You've lived in LA, SF, Seattle... Very Connected places. Try living in Janesville, WI or Blackberg VA." This prompted a kind of insulting reply from Orth of, Why on earth would I live there? He then set his Twitter account to private.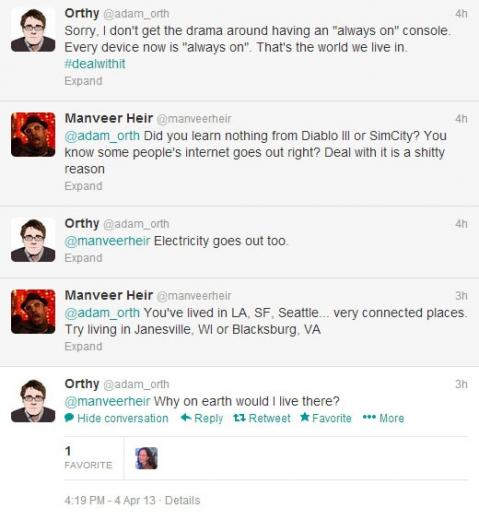 Despite the lack of thought Orth put into his post, could he have been confirming that the next generation Xbox will indeed require an Always On connection to the internet? DRM is big business for large studios like EA, but some smaller developers are choosing to release their games without any form of DRM. Recently the developers of The Witcher 3 issued a patch that removed all DRM from the game, making good on a promise they made before launch.