Study suggests Android apps engage in less risky behavior than iOS
Data shows that a higher percentage of iOS apps exhibit risky behavior.
Published Wed, Mar 6 2013 8:34 PM CST
|
Updated Tue, Nov 3 2020 12:24 PM CST
Appthority has released a new study that looks at risky behavior exhibited by the top 50 iOS and top 50 Android apps. The data suggests that despite the appearance of more security in iOS, more iOS apps tend to engage in risky behaviors, such as sending and receiving unencrypted data, than Android apps do.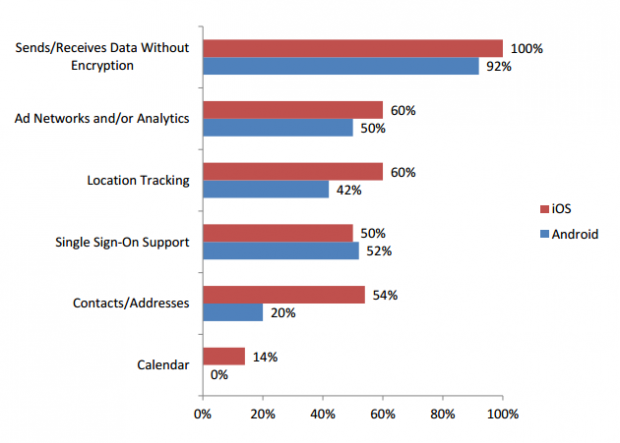 As you can see in the chart above, every single one of the iOS apps tested sent or received data without using encryption. This exposes user data to being sniffed while traveling over the internet. Only 46 of the 50 Android apps tested exhibited this behavior.
Furthermore, a higher percentage of tested iOS apps used ad networks or analytics. Far more iOS apps tracked the user's location. Finally, over half of the iOS apps tested had access to the user's contacts, while only 20 percent of the Android apps tested were allowed to access a user's contacts.
Of course, none of these behaviors are indicative of a major security risk. However, it just goes to show that Apple's process of going through and approving apps doesn't make them any less risky than Android. In fact, by Android showing which permissions an app is allowed to access likely discourages app developers from requesting permissions they don't need.
Related Tags