MWC 2013 - ASUS have just unveiled their latest smartphone during their conference at Mobile World Congress 2013 in Barcelona, Spain - enter the Padfone Infinity. Sporting a 5-inch 1080p display, we have the ability to dock the Padfone Infinity with a 10.1-inch 1920x1200-capable tablet.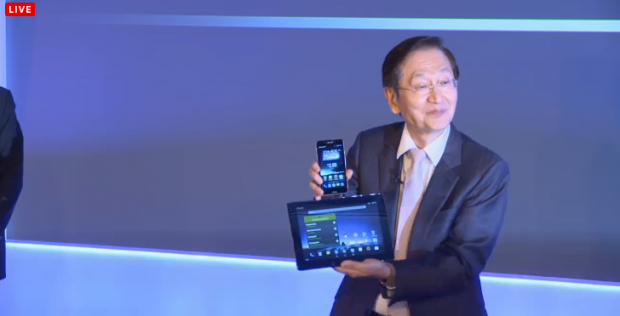 You should be used to this by now with the previous Padfone, but this new Padfone Infinity bumps the specs up as well as offering a "sleek aluminum body", and inside we find Qualcomm's 1.7GHz Snapdragon 600 - which is quite an amazing piece of kit.
ASUS chairman Jonney Shih took the stage, unveiling the Padfone Infinity itself. Something ASUS are calling "Customer Happiness 2.0" is the central part of the Padfone Infinity's design - touch, responsiveness, uniquity and more. A whole new design is behind the Padfone Infinity using aerospace-grade aluminum alloy, unibody frame and brushed metal finish, twice-anodized diamond cut edge glass display.
The 5-inch 1080p-capable display provides 441ppi, and a anti-fingerprint coating on top. As for the tablet, the 10.1-inch display includes a 1920x1200-pixel display with the same anti-fingerprint coating. On the rear, we have a 13-megapixel f2.0 rear-facing camera, 2-megapixel front-facing camera with the rear camera capable of 1080p recording at 30fps and the rear camera is also capable of taking 100 shots at 8fps burst mode.
Moving onto the audio side of things, the Padfone Infinity features SonicMaster technology - louder, more bass and less distortion. The speakers on the Padfone Infinity are on the sides of the phone, and on the tablet we find an 18mm diameter speaker on the tablet. The Audio Wizard provided gives 6 different settings for differing environments, something a little nifty from ASUS! Curved edges are at play on the Padfone Infinity, part of its ergonomic design - precision-calibrated buttons. The Padfone logo also doubles as a damn NFC antenna - go ASUS!
Also inside, we have 2GB of RAM, 64GB of internal storage is on offer backed up by 50GB of ASUS WebStorage. LTE capabilities are here, right up to 100Mbps.
Price and availability, 999 euros and available in April. Bit on the expensive side, but you do get two devices in one remember.