4K UHD over HDMI is now possible thanks to VESA updating DisplayPort Dual-Mode
VESA makes an update to DisplayPort Dual-Mode, allows 4K UHD over HDMI.

Published Fri, Feb 1 2013 6:29 PM CST
|
Updated Tue, Nov 3 2020 12:25 PM CST
VESA have officially updated their DisplayPort Dual-Mode 1.1 standard which paves the way for better performance, higher resolutions and increased interoperability when using HDMI and DVI ports through a cable or an adapter.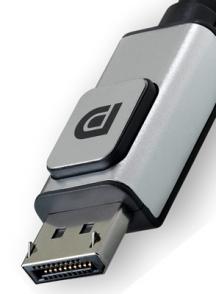 When using Dual-Mode, DisplayPort will be capable of outputting an additional HDMI/DVI-compatible signal alongside its expected DisplayPort link. What this will allow is connectivity for HDMI and DVI-capable devices without the need for cables or converters featuring active electronics. Current DisplayPort Dual-Mode converters/adapters are limited by an output maximum of 1080p @ 60Hz with 24-bit color.
This update to DisplayPort Dual-Mode would allow HDMI 1.4 to be quite versatile, handling deep-color, 3D 1080p @ 60Hz and 4K UHD (2160p) @ 30Hz, all through a single cable. These improvements are thanks to a near doubling in the Transitional-Minimized Differential Signal (TMDS) rate, which has been ramped up from 165MHz to 300MHz.
The new standard for DisplayPort adapters and cables will be known as "Type 2", while previous-generation devices, cables and adapters will be labeled as "Type 1". Type 2 adapters will be backwards compatible, but the performance of these adapters would be locked at 165MHz for compatibility reasons. There will be some cases where a software update might be available which would allow Type 1 devices to take advantage of Type 2 features and performance.
Related Tags