We've previous reported about entire 3D-printed buildings, but now we're looking at taking one small step for man, one giant leap for 3D printing with the idea of 3D-printed moon bases. Yes, that's not an error - 3D-printed moon bases.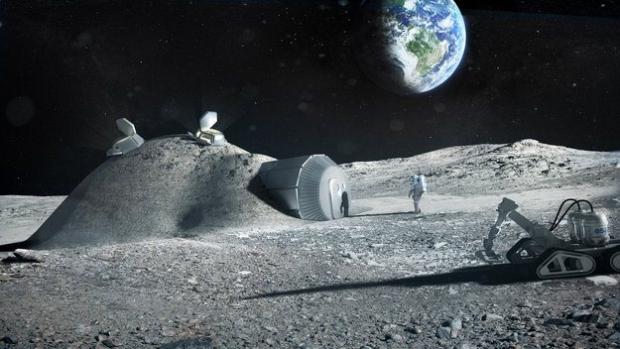 The European Space Agency and partners from London-based architecture firm Foster + Partners are currently scribbling down some ideas on how they would get 3D-printed moon bases onto the surface of our moon. Lunar dust creates a difficult a problem in terms of building materials, which has forced those involved to think outside of the box, big time.
Simulated moon dust has been combined with magnesium oxide and a "binding salt", which helps to mixture stick together, with the entire process capable of working within the vacuum of space thanks to a new approach to extruding liquids on the moon. The first concept designs from Foster + Partners used a large weight-bearing dome with a "cellular structured wall" in order to keep the people who would be inside of these structures safe from ambient radiation and micrometeroid strikes.
Enrico Dini, founder of UK-based 3D printing coming, Monolite, he said that our current printer builds at a rate of around 2m per hour, while our next-generation design should attain 3.5m per hour". Dini elaborated, stating that an entire building would take around one week, but whether this meant one week building on the moon itself, or here on Earth is the question.