Kim Dotcom's Mega joins the ranks of the top 150 websites in the world after five days
Dotcom's Mega now ranked in the top 150 websites - bigger than Dropbox, Rapid Share.
Published Wed, Jan 23 2013 9:59 AM CST
|
Updated Tue, Nov 3 2020 12:25 PM CST
Mega, the recently launched brainchild of the infamous Kim Dotcom, has already climbed to the ranks of the top 150 sites on the internet. In just five days, the file sharing website has eclipsed rivals RapidShare and Dropbox according to Alexa rankings, a service which ranks websites by size from users who install its browser toolbar.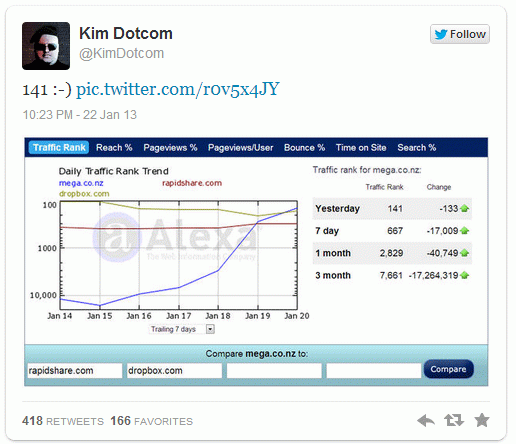 In a tweet that simply read "141", Dotcom announced the sites entry into the 150 club. The numbers are based on website ranking service Alexa, where Mega is still in the 7,000 range if you go by the three month stats, but if you track the site on a seven day basis, Mega has beat out its major rivals in terms of website traffic.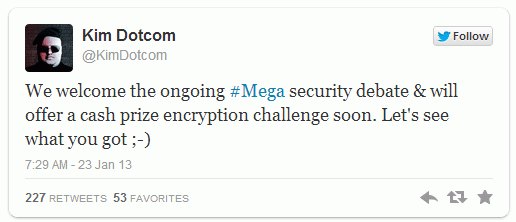 The joy in the Mega camp is not everlasting though as allegations arise that the site's encryption service is not as secure as they would like us to think. The issues arise with Javascript and a "poorly" created random entropy for the encryption keys. In true fashion, Dotcom addressed the issue by tweeting that a contest with cash prize will be held soon, and saying "Let's see what you got". It's unclear if Mega's massive website traffic will continue after news agencies around the world move onto other topics.
Related Tags