In this world of iOS and Android dominance, the voice of Windows Phone isn't heard too much. Well, now we have something to go on. Forbes' latest report is talking about Qualcomm's CES keynote, in which Microsoft CEO Steve Ballmer ran onto the stage and spilled some numbers.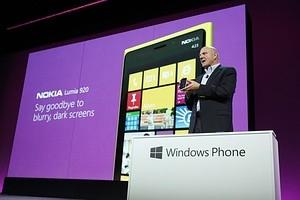 During his speech in the Qualcomm CES keynote, he said that the latest Windows Phone was selling "five times more devices than the same period last year". There are no exact numbers here, but if we go back to Q4 2011, we're looking at around 2.5 million units. Ewan Spence, who wrote the article for Forbes, he made:
A couple of assumptions, I make the range of Windows Phone handsets sold in Q4 2012 as being between 9,500,000 and 13,250,000 smartphones. My gut feeling is that the sales are at the lower end of this range, but I'd expect Q1 2013 to build on Q4 2012, mostly because the Windows Phone 8 devices were only available for half the quarter. So there's lots of room to improve those numbers over the next three months.
Windows Phone is slowly getting better, but can it compete with the likes of the current-gen Android-based phones? We're already close to a new Galaxy smartphone from Samsung, and a slew of new devices from many other manufacturers in the coming weeks, especially building up to Mobile World Congress in Barcelona next month.