Windows 8 is currently doing worse than Vista did at launch
Windows 8 is still not doing so well, is proving to be less popular than Windows Vista.

Published Mon, Dec 31 2012 3:35 AM CST
|
Updated Tue, Nov 3 2020 12:25 PM CST
I've got to admit, this is the first version of Windows that has come out that I have just not had any interest in. Usually I have the beta of the latest version, then the RC, and then the RTM at the first second I can get them from TechNet. Windows 8? Not so much.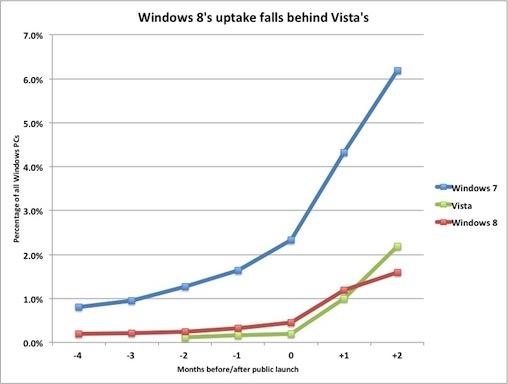 It looks like most consumers are having the same apprehensions, as the next-gen, touch-optimized OS from Microsoft has had a bad uptake when compared to Windows Vista. Windows 8's uptake has now fallen behind Vista's in the same point in it's release according to Net Applications' data.
Windows 8's online usage share is around 1.6% of all Windows PCs, which is less than the 2.2% share that Windows Vista sported at the same two-month mark after its release. The data was collected up until December 22, so there's still just over a week of data until the end of the year to collect. But I'm sure that by then it won't make a difference.
Are you surprised by this? Have you got Windows 8 - what are your thoughts on Microsoft's latest and greatest (?) OS?
Related Tags