Foursquare talks about up dated privacy policies for 2013
Foursquare thanks everyone for their great 2012, talks of changed privacy policies for the new year.

Published Sat, Dec 29 2012 10:28 PM CST
|
Updated Tue, Nov 3 2020 12:25 PM CST
Foursquare have enjoyed a great 2012, seeing over 15 million new people joining the community, their 3 billionth check-in and have released over 50 new features but 2013 is going to see some big changes, and we're not even there yet.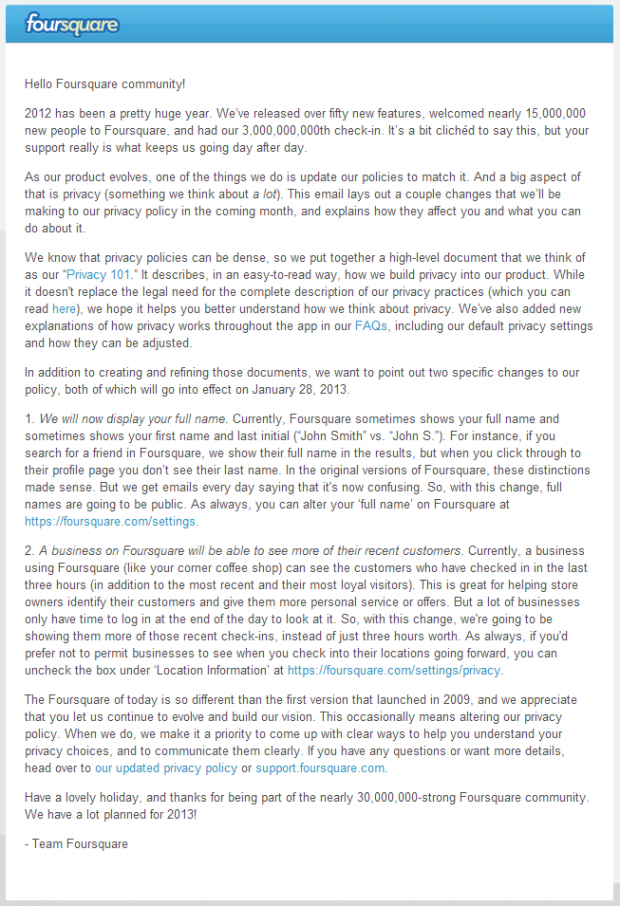 Foursquare have unveiled a new "Privacy 101" document, which outlines how they build privacy into their 'product'. There are two changes so far, the first of which will display your full name. Until now, Foursquare has shown your full name, or sometimes your first name followed by your last initial. This would be a bit of a hassle, because when searching for friends you would sometimes see their full name in the results, but if you clicked through to their profile page it would not show their last name.
The second change is to businesses, where a business will now be able to see more of their recent customers which is a great change. At the moment a business using Foursquare can only see which customers have visited and checked in within the last three hours. This is great if a business owner is right there, all the time on Foursquare but there are plenty of businesses that wouldn't have the time to check their Foursquare until the end of the day.
But, you would've lost most of those customers' check-in details because you can only view the last three hours. Well, Foursquare are rolling through changes which will see businesses able to access the more recent check-ins, instead of just a few hours worth. You can opt-out of allowing businesses to see when you check in, which can be done by unchecking the box under 'Location Information' here.
These new changes to Foursquare arrive on January 28, 2013.
Related Tags