Gangnam Style hits 1 billion views on YouTube, world continues to exist
Gangnam Style officially passes 1 billion views, the world keeps on ticking.
Published Fri, Dec 21 2012 5:01 PM CST
|
Updated Tue, Nov 3 2020 12:25 PM CST
YouTube has posted on their blog about how Gangnam Style has officially hit 1 billion views, the first video to ever do so. The next highest song, and the previous record holder for most views is Justin Bieber's "Baby." We had posted that the moment was coming earlier, but it has now officially past the mark, with no damage to the Earth caused.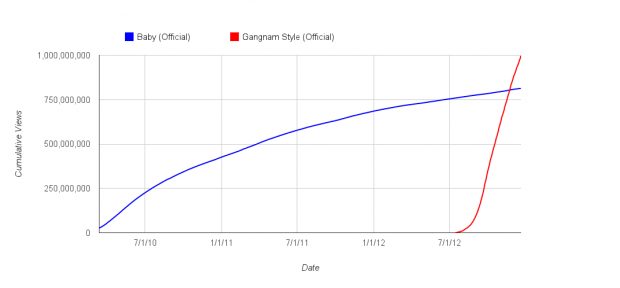 If you check out the awesome chart by YouTube, seen above, you can see how much quicker Gangnam Style took off compared to Justin Bieber's "Baby." PSY has many more cool stats to go with the one billion views, but that is probably the best of them all. If you're interested in the others, however, YouTube provided the following:
PSY was already big in Korea, but in 2012, he became a global celeb as Gangnam Style quickly spread from Seoul and the pacific to North America, South America, and Europe. It's been seen at least 1 million times in close to 75 countries, making it one of the most global music sensations ever!

From a one-thousand person flash mob in Jakarta to cover videos from Ai Weiwei and Mitt Romney, hundreds of thousands of parodies have been uploaded to YouTube, some of which have tens of millions of views. In fact, fan tributes to Gangnam Style are now being viewed 20 million times every single day.

PSY's own remix with Hyuna has 200 million views alone.

"Gangnam Style" was YouTube's top rising search of 2012 and on October 6th, we saw more than five million searches for "gangnam style" in a single day. Check out this video demonstrating some of our most popular YouTube searches this year.

For those interested in the business side: a number of assessments and projections have been posted claiming "Gangnam Style" has generated over $8.1 million in advertising deals, hit more than 2.9 million in song downloads since July, and achieved other incredible feats!

Since late last month, people have clicked to buy the track on iTunes over 600,000 times helping make PSY the first Korean artist ever to rank #1 on the U.S. iTunes chart and #1 in over 30 more countries.
So, if you haven't seen Gangnam Style yet, you can check it out below:
Related Tags