Just days before the world reportedly ends, leaked details of AMD's upcoming Radeon HD 8000M "Solar System" range of mobile GPUs have made their way onto the shores of the Internet.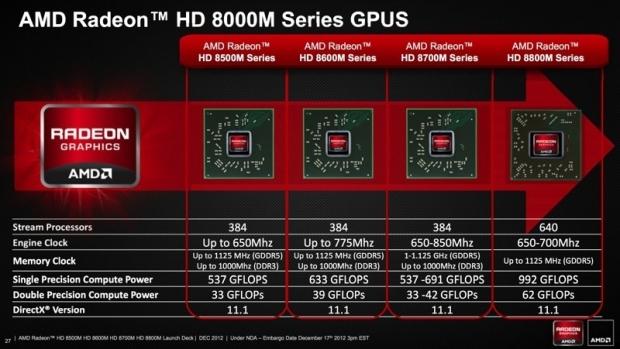 The new mobile GPUs are set to launch for CES 2013, and will be based on the new Graphics CoreNext (GCN) micro-architecture. GCN supports DirectX 11.1, Enduro Technology and AMD ZeroCore power technology. Enduro is an NVIDIA Optimus-like tech which switches between discrete and integrated GPUs while the ZeroCore tech can completely power down GPUs when they're not needed.
Peering over the slides, we can see there is a new ASIC which covers three product lines - HD 8500M, HD 8600M and the HD 8700M. The sure-to-be-sweet silicon sports 384 GCN stream processors, a 128-bit memory interface that supports both GDDR5 and DDR3. The HD 8500M series sports GPU clock speeds of up to 650MHz, with the 8600M cranking it up to 775MHz. The 8700M series goes one better and sees clock speeds hitting 850MHz.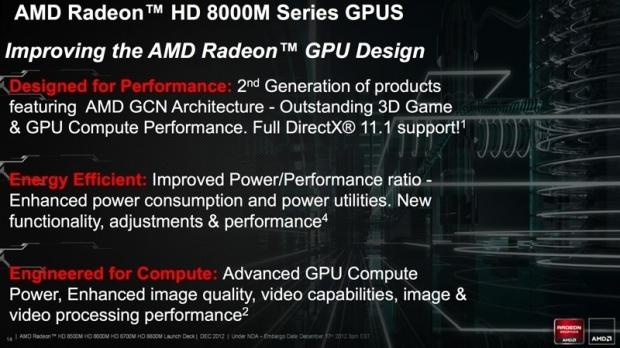 Now let's talk about the HD 8800M series, we know that's what you wanted to know about first, isn't it? This mobile GPU offers similar specifications to the current-generation "Cape Verde", which is what is baked into the desktop-based Radeon HD 7000 series of GPUs. We're set to stare down the barrel of 640 GCN stream processors, GPU clocks ranging between 650-700MHz and memory clocks of around 4.5GHz.
AMD have compared their upcoming HD 8870M to NVIDIA's current-generation GeForce GTX 650M GDDR5, HD 8770M and HD 7670M as well as the HD 8690M to the HD 7590M. The new chips under AMD's own testing provide a 20% to 45% increase in performance - not bad, eh?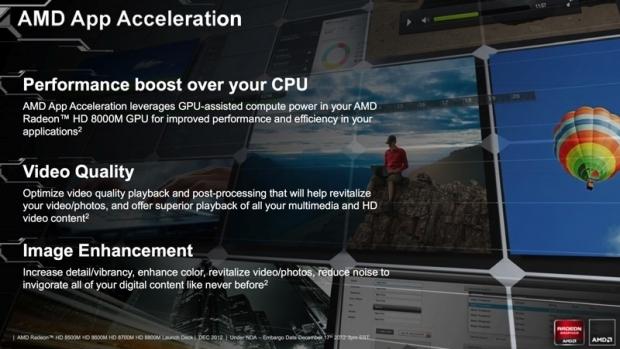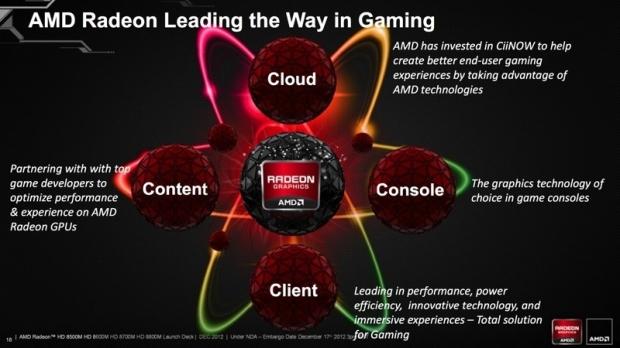 We should see notebooks with these hopefully powerful GPUs by Q1 2013, and by the next quarter we should see them launch the performance-orientated SKUs in the new HD 8000 series lineup.