Meet the Arduino Esplora, an open source Arduino Leonardo based gaming pad that can be used in DIY Gaming projects, to control robots or just about any other project where a hand held controller is needed. Sporting an Atmega32U4 AVR microcontroller with 16 MHz crystal oscillator and a micro USB connection capable of acting as a USB client device, like a mouse or a keyboard.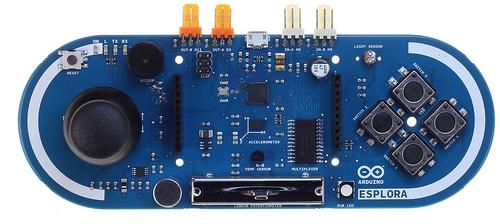 With 32 KB of memory (with 4 KB used for the bootloader) and a 3 axis acceleration on board we are sure that there will be some awesome games configured to support this controller. The Esplora can appear as a generic keyboard and mouse, and can be programmed to control these input devices using the Arduino Keyboard and Mouse libraries.
"To facilitate writing sketches for the Esplora, there is a dedicated library that contains methods for reading the sensors and writing to the outputs on-board. The library offers high level methods which provide pre-processed data, like degrees Fahrenheit or Celsius from the temperature sensor. It also enables easy access to the outputs, like writing values to the RGB LED." We can't wait to see someone playing Angry Birds on their 10" tablet using the Arduino Esplora as the control device!