Disney has taught a humanoid robot to play catch, juggle - doesn't look like Arnie, thankfully
Disney goes in a strange direction - has taught a humanoid robot how to juggle and play catch.

Published Sat, Nov 24 2012 9:27 PM CST
|
Updated Tue, Nov 3 2020 12:26 PM CST
Here I am thinking we're getting closer to the end of the Mayan long-count calender, and the world won't end - but now Disney have taught one of their humanoid robotic subordinates how to play catch and juggle with human participants.
Yes, I'm not trolling - Disney have just unveiled this new effort, and designers have given the unit (not named the T100) a cup-shaped, human-like hand which helps with the catching and juggling. The robot uses an ASUS Xtion Pro Live camera which tracks faces and incoming balls - technology similar to Microsoft's Kinect.
The project started off with Kinect, but researchers switched to the ASUS Xtion Pro Live because they didn't need the Kinect's panning motor or microphone.
One the robot catches a ball, it will gently throw it back to the person - and is quick enough that designers have made it capable of juggling with human partners through a rapid succession of tosses and catches. It does get better - as the researchers have programmed the robot so that if it doesn't catch the ball, and depending on where the ball has landed, the humanoid robot is programmed to shrug and follow the ball over its shoulder, or gaze at its "feet" below in disappointment.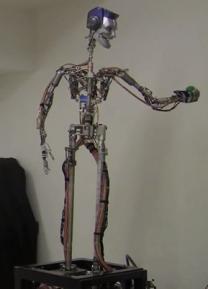 The robot is also capable tracking the ball with its face, which gives people the impression it is following the ball with its eyes.
Related Tags