Dilbert cartoon takes a shot at Microsoft, probably a bit off-base
Dilbert comic calls Microsoft out as being irrelevant, doesn't make a good sell.
Published Tue, Nov 6 2012 1:07 PM CST
|
Updated Tue, Nov 3 2020 12:26 PM CST
Scott Adams, creator of the popular comic strip Dilbert, has taken a shot at a technology company, saying that "there's nothing [they] can do about [their] long slide toward irrelevance." He also takes a shot about the company redesigning its logo and releasing a tablet computer. Any ideas which company it's making fun of?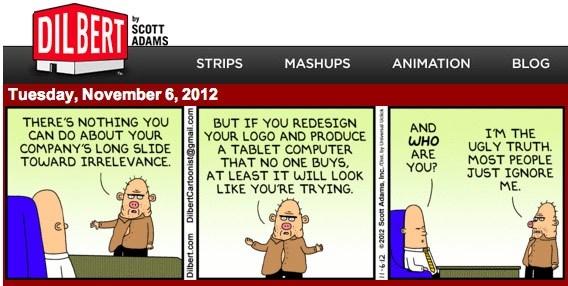 If you guessed Microsoft, you're right. If you didn't, you probably need to read TweakTown more often to stay up with the latest. Everything the Dilbert comic said is accurate, well mostly. Microsoft has recently revamped their corporate logo, as well as revamping the Windows logo into something that looks more like Windows.
But sliding towards irrelevance? Hardly. The Xbox 360 has remained the top selling home entertainment console for 20+ months, Windows is still the leader in the desktop operating system market by far, and Office is still one of the most widely used productivity suites around. It's a hard sell, at least right now, that Microsoft is becoming irrelevant.
Related Tags