Users of Android on the Verizon network will now have the ability to bill their Verizon Wireless account, instead of using a credit card or other form of payment. This change should help users purchase more apps easily, and is especially important for those users who do not have another form of payment, such as a credit card.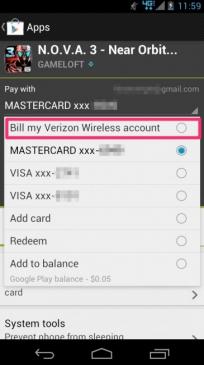 Users will be able to charge up to $25 of apps and other Google Play "merchandise" to their wireless bill every month and then they only have to pay through one channel. This latest addition brings the feature to Verizon, a feature that Sprint, T-Mobile, and AT&T have had for a while now. Just be sure to keep track of how much you're spending.
If you'd like, it appears to be something you can disable by going to Verizon's site and enabling "Block Web Purchases."