AMD unveils "Never Settle" release of drivers, welcome to Catalyst 12.11
AMD's Catalyst 12.11 "Never Settle" drivers offer up to 15% more performance

Published Mon, Oct 22 2012 7:29 AM CDT
|
Updated Tue, Nov 3 2020 12:26 PM CST
AMD aren't taking the graphics war sitting on their hands, with the release of their Catalyst 12.11 driver set which the company are calling the "Never Settle" driver, and rightly so by the looks of things.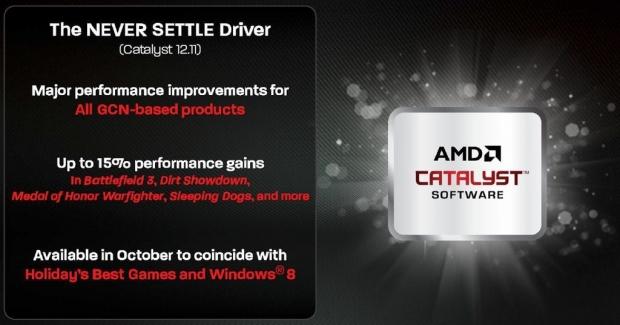 These new drivers carry support for the AMD Radeon 7000 series of GPUs, with specific GPUs in mind based on the Graphics CoreNext architecture, such as HD 7750, HD 7770 GHz Ed., HD 7850, HD 7870 GHz Ed., HD 7950, HD 7950 BE, HD 7970, HD 7970 GHz Ed., and HD 7990; and mobile Radeon HD 7700M series, HD 7800M series, and HD 7900M series.
The new Never Settle drivers sport performance improvements of up to 15% in most of the latest games including Battlefield 3, DiRT Showdown, Sleeping Dogs, Medal of Honor: Warfighter and much more. AMD is now able to claim the performance lead for all of their top-end products, with the HD 7970 GHz Edition seeing a 20% performance gain over NVIDIA's GeForce GTX 680.
AMD's new drivers will be available shortly, at the moment the latest drivers on their site are still showing up as 12.8's.
Related Tags