ReportTT: Looks as though the iPhone 5 A6 processor is clocked at 1.3GHz
Report: The iPhone 5 A6 chip is clocked at 1.3GHz, either dynamic clocking or misidentified in older.
Published Wed, Sep 26 2012 5:40 PM CDT
|
Updated Tue, Nov 3 2020 12:27 PM CST
There are a lot of good things to like about the iPhone 5 and a lot of bad things to dislike about the iPhone 5. One of the things that most of us can settle on is the fact that the iPhone 5's A6 processor is quite a beautiful thing. This chip is a custom layout by Apple of an ARM instruction set.
Since Apple spent the time to layout the chip by hand, they can gear the chip for performance, battery life, or both. Many people have attributed the "2x" performance claim, and seemingly supportive benchmarks, to this hand layout process. It seems now that the iPhone 5's A6 processor is either clocked higher than previously thought, or contains a turbo mode of sorts that ramps it up to 1.3GHz.
As you can see in the video above, the new version of Geekbench identifies the processor as being clocked at the higher 1.3GHz. The older version of Geekbench identified the A6 as a 1GHz part. Dynamic clocking makes sense as it would allow the processor to be more powerful when needed and clock down to save battery when not.
There will need to be more testing done to confirm or deny what Geekbench is seeing, but either a faster clock speed or dynamic clocking makes sense for the chip and its performance.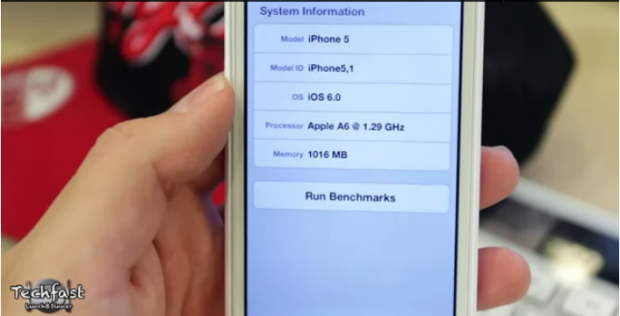 Related Tags