As an avid ultraportable laptop user, I've often wished that I had a way to upgrade my laptop's performance when I was sitting at home at my desk, or in the hotel at one of the many trade shows. Unfortunately, there doesn't currently exist a solution to my problem. But that could all soon change, if Lucid's technology catches on.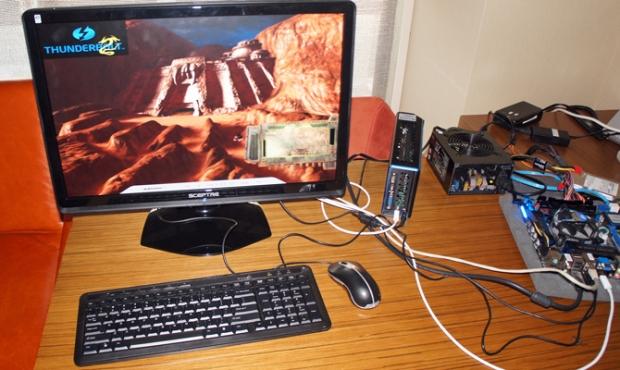 Lucid has demoed a technology that utilizes Intel's stupid-fast Thunderbolt port, which is capable of 20Gbps theoretical throughput. The Thunderport connects a laptop, or any Thunderbolt-enabled PC, to an external enclosure that houses a desktop graphics card and its accompanying power supply.
To upgrade your laptop capabilities, just plug the device in. The screen currently flashes black and then the GPU is recognized by Windows. This allowed an Ivy Bridge bridge system, which managed 28 FPS in 3DMark06 on HD4000 graphics, to achieve 89 FPS. The system theoretically can even handle Crossfire and SLI setups.
Lucid doesn't have a hard release date for this technology as it is still in development. However, if and when it comes, it will be something that gamers around the world should come to love. Think about it, if your graphics capabilities start falling behind, all you have to do is drop in a new card!