It looks as though NASA is wanting their Small Spacecraft Technology Program to see Android-powered devices go into space. The space agency wants to see if cheap consumer-based hardware can dependably survive a journey into space.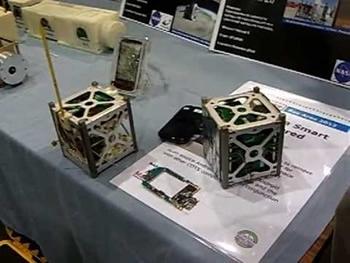 NASA believes that sending tiny satellites into space will pave the way for a low-cost delivery system, they also hope to improve upon, or evolve new propulsion techniques by working with much smaller devices, like smartphones. The first-gen, smartphone-powered satellites will be baked into a modular, cube-based chassis named 'CubeSat'.
The first PhoneSat will measure just 10x10x10cm, or roughly double the size of a Rubik's Cube. NASA will throw in Samsung's Nexus One smartphone, one external battery, radio equipment, and a watchdog circuit that will be used to reboot the device in case of a problem. NASA have already run stress tests on the Nexus One, which it passed without any modifications required. These tests were run to see if the smartphone could handle the launch and orbit into the dark beyond of space.
PhoneSat will be attached to an Antares rocket during its launch, which is a 15,000-pound, 133-foot beast of a rocket and is in charge of launching the tiny device into space. PhoneSat 1.0 will orbit above Earth sending sensor data and photographs back to mission control. PhoneSat 2.0 is already in the pipeline, with NASA upgrading version 2.0 to a Nexus S, and will contain more sophisticated hardware, such as solar panel arrays and a two-way microwave radio.
PhoneSat 1.0 prototypes are costing NASA around $3,500 each, but the journey into space is going to cost many millions of dollars.