New camouflage face paint that 'resists intense heat from bombs'
Scientists invent a face paint which protects from heats up to 600*C for up to 15 seconds.
Published Fri, Aug 24 2012 3:30 PM CDT
|
Updated Tue, Nov 3 2020 12:27 PM CST
If you've ever been camping and sat around a campfire, you know how hot your face can get. While in war, many soldiers wear camouflage face paint. The issue with the current face paint is that it is a concoction of oil and wax which, when exposed to high temperatures such as a bomb blast, melts and burns the skin.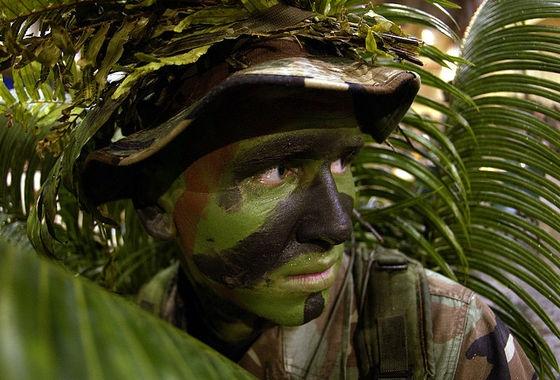 Furthermore, any face paint is required to have Deet, an insect repellent, included in the formula so that soldiers don't get bitten to death in jungles and other settings. The problem with Deet is that it is highly flammable, not exactly something you want exposed to high heat. This is where the scientists come in.
Scientists have invented a new face paint which "resists intense heat from bombs" and can resist temperatures of up to 600*C for up to 15 seconds. Considering bomb blasts last just two or three seconds, this face paint can protect soldiers' skin from the heat produced by the blast.
The new paint is produced using silicone, something that reflects heat rather than absorbing it. The Deet problem was solved by mixing it with a water-rich hydrogel substance to keep it from catching fire. Scientists are now working on producing a clear version for firefighters so they don't have to wear warpaint when running into a burning building.
Related Tags