Kickstarter Friday: Planetary Annihilation, a new, next generation RTS
Kickstarter Friday: Check out this Kickstarter that is aiming to make a massive RTS game.
Published Fri, Aug 24 2012 2:33 PM CDT
|
Updated Tue, Nov 3 2020 12:27 PM CST
"Planetary Annihilation brings RTS gameplay to a new generation of players in a way that's never been seen before." Sick of all those games that are produced by massive publishing companies? Thankfully, Kickstarter has come along and provided a way for games to get funding without having to get the OK from these giant companies.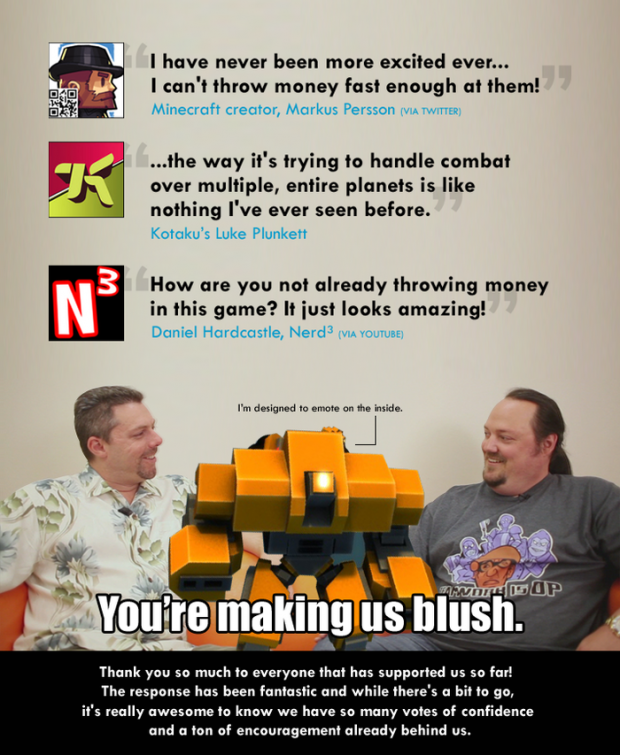 This allows games such as Planetary Annihilation, a game which the developers have said likely wouldn't get funding from a big studio, to be created, the way the developers and players want them to be. At their Kickstarter page, the developers, Uber Entertainment Inc, have provided a video and full description of the game:
Planetary Annihilation brings Real-Time Strategy to a new generation of gamers in a way they've never been seen before: Total Annihilation-inspired gameplay on a planetary scale.

Why we want to do this:

We all know that the RTS genre has taken a hit. There just aren't that many quality original RTS games coming out. If you love to play games like Total Annihilation your options are pretty limited. This is where Planetary Annihilation comes in. It is meant to be a truly innovative spin on what RTS games can and should be.

Why you will love the game:

A Solar System Is Your Playground

Expand your empire to harness the resources of entire solar systems to create vast armies with which to annihilate enemy planets, destroy rival systems and win the Galactic War!

Pick Your Battles

Play a quick skirmish with a friend on a single planet map with a low unit cap or a 12+ hour game with 40 of your closest frenemies and thousands of units. You can also hone your skills against Planetary Annihilation's AI or team up with a friend against multiple AI's.

Advanced Command and Control

Planetary Annihilation's order queuing interface allows you to control massive armies spread across multiple worlds with ease. Get strategic views of the action anywhere, anytime by zooming in and out of the war zone, and use split interfaces and multiple windows to keep an eye on multiple battlegrounds at once.

Procedural Planet Creator

Create custom or randomized maps with our procedural planet creator. Like what you see? Save them and share them with the Planetary Annihilation community.

Streaming Resource Economy

Use resources to build mega projects. Assign swarms of construction units in realtime to manage your economy. Reclaim wreckage and terrain to quickly regroup after a battle.
The developers then offer up a bit of a plee: "Let's face it, game publishers today want sequels in very restrictive genres. In many cases game publisher overhead makes small projects not interesting to them. That's where you, the RTS fan, comes in." It's already nearly funded, currently sitting at $695k of its minimum $900k goal, and they still have 21 days to go.
Head on over to the Planetary Annihilation Kickstarter page and check it out for yourself!
Related Tags