Toshiba increases enterprise SSD offerings with three new lines
Toshiba announces three new lines of enterprise drives ranging in capacity from 100GB to 1.6TB.
Published Tue, Aug 21 2012 11:32 AM CDT
|
Updated Tue, Nov 3 2020 12:27 PM CST
Here's a mouthful for a business name: The Storage Products Business Unit of Toshiba America Electronic Components, Inc. Anyway, these folks have announced an expansion to their enterprise SSD offerings in the form of three new lines of varying capacity and specifications. They bill the three lines as "High Performance," "Value," and "Read-Intensive/Boot Server."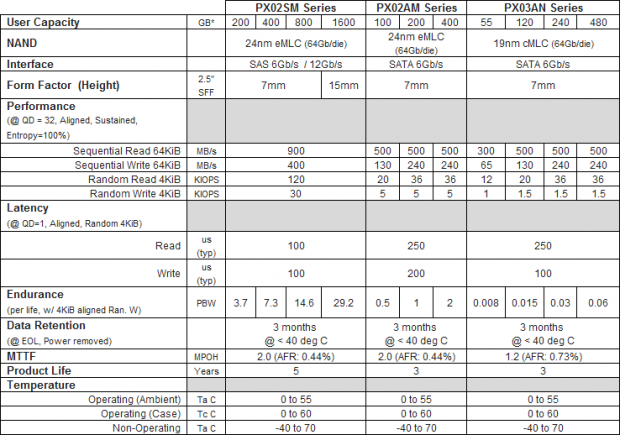 High-Performance: Targeted at applications requiring the highest levels of eSSD performance, the PX02SM series is Toshiba's first eSSD to utilize 24nm eMLC (enterprise multi-level cell) NAND technology, with capacities of 200/400/800GB1 and 1.6TB2, and is Toshiba's first offering with a dual-port 12Gb/sec SAS interface with a form-factor equivalent to industry-standard 2.5inch HDDs.

Value Line: Optimized for entry-to-mid-level server and storage applications requiring balance, reliability, capacity and endurance, the PX02AM series also features 24nm eMLC NAND flash in capacities of 100, 200 and 400GB, all with a 6Gb/s SATA (Serial ATA) interface. Featuring a slim 7mm 2.5inch industry-standard form-factor, all capacities offer power-loss protection.

Read-Intensive/Boot Server: Targeted at entry-level server applications, the PX03AN series is Toshiba's first eSSD family using 19nm cMLC (consumer multi-level cell) NAND flash, in capacities of 55, 120, 240 and 480 GB. Utilizing the 7mm 2.5inch form-factor, the PX03AN series drives also offer power-loss protection.
"As SSDs continue to broaden their reach into enterprise applications, from web servers to data centers, our customers are looking for a broad set of SSD solutions," said Joel Hagberg, vice president of marketing at Toshiba's Storage Products Business Unit. "Today's announcement further demonstrates how Toshiba is providing our partners with the ability to deliver the best storage solutions for every enterprise need."
All of the drives announced today will begin shipping in the fourth quarter of 2012. If you're a business looking to upgrade your servers with SSDs, these new drives by Toshiba may be just the thing.
Related Tags