Crysis 3, CryEngine 3 trailer gives us a preview of the eye-candy we can expect from Crysis 3, actual in-game footage used
CryTek has released a technical demo of Crysis 3/ CryEngine 3 that uses actual in-game footage.
Published Aug 10, 2012 3:36 PM CDT
|
Updated Tue, Nov 3 2020 12:27 PM CST
0 minutes & 45 seconds read time
It's time to start getting excited for Crysis 3 and CryEngine 3. I already gave it an award from when I saw it at E3 and it continues to impress. The creators of Crysis and CryEngine, CryTek, have given us a new glimpse into the technical capabilities of the CryEngine 3 graphics engine, the engine that powers Crysis 3. Make sure to watch the video below in 720p and full screen--it makes it that much better!
Words aren't really necessary, but I'll attempt to get them back after watching that video. The video highlights the technical achievements managed by the CryTek team. Lens flares, dynamic cloud shadows, dynamic fog shadows, cloth and vegetation simulation, and tessellated vegetation all combine to make the game world incredibly beautiful.
And then there's the "top secret tessellated toad tech." Not sure why they have this, but it certainly looks good. I wonder if it will rain toads in Crysis 3 as a sign of the apocalypse. No? Well, I'm sure it's there for a reason. Tell us what you think about the video in the comments or on our Facebook page!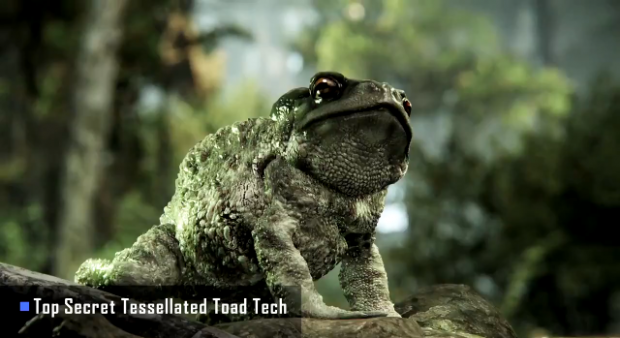 Related Tags