Broadcom shows off fifth-generation 802.11ac Wi-Fi chips
Fifth-generation 802.11ac Wi-Fi chips unveiled from Broadcom.

Published Tue, Jul 31 2012 11:35 PM CDT
|
Updated Tue, Nov 3 2020 12:27 PM CST
Over the weekend, Broadcom unveiled its latest and greatest consolidated multi-wireless chips, which use a combination of Bluetooth 4.0 and the 802.11ac, which sports up to double the speed of existing 802.11n technology, and can be up to six times more power-efficient, even while handling the same amount of data.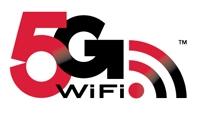 Broadcom's new chips can handle FM and conventional 802.11 2.4GHz and 5GHz bands, and are expected to arrive in early-2013 to be used in smartphones and tablets. Broadcom's new chip uses a 40nm CMOS process and integrates a full Wi-Fi system, including MAC, PHY and RF. Like Bluetooth 4,0, the system can go into a low-power mode, as well as come out of it, virtually instantly, which provides some serious power savings when the system isn't being stressed.
The range of chips is also said to be much better than current 802.11 tech, with throughout hitting 1Gb (gigabit) per second. While the tech would hit smart devices, it will be mostly used at high speeds for home routers, future portable systems, and 2013-onward devices. Broadcom isn't the only company to promise "5G Wi-FI" (which is the consumer name of 802.11ac) chips, which should provide users with more choice, and thus, should keep costs lower.
Considering the same chipset can be used across a broad range of devices like ultraportables, tablets, smartphones and many more, it should help create a more uniform experience, all the while providing more performance, and battery life.
Related Tags