Could thermal paste have its days numbered? Sony thinks so
Sony shows off silicon sheets, are thermal paste's days numbered?

Published Wed, Jul 18 2012 8:32 PM CDT
|
Updated Tue, Nov 3 2020 12:27 PM CST
Thermal paste has been a long-time friend of computer enthusiasts, and over the years has evolved and had some great work done to it to reduce those temperatures, even by a few degrees. But, Sony showed off a new product in Tokyo last week that could thermal paste disappear, forever.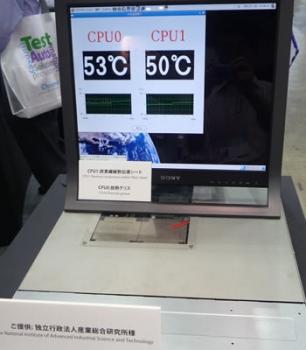 Sony revealed a prototype of a silicon and carbon-based thermal sheer which is currently known as "EX20000C" that measures 0.3-2.0mm thick with a thermal resistance of 0.4-0.2K cm2/W and a compress load of around 1-3kgf/cm2 - this is five or six times the effectiveness of Sony's previous solution.
EX20000C is said to meet, if not exceed the thermal conductivity of standard thermal grease. One of the show floor exhibits compared the sheet's effectiveness with a conventional setup and it managed to reduce the processor's temperatures by another 3C. Not only that, it removes the need for cleanup and also prevents over application, as the sheets last longer than paste because they don't degrade.
Sony expects these new sheets to be used in high-end servers, projectors and similar machines, it's unclear at the moment if the solution will be made available to the end user, so we don't know if you'll be building your next system with this new gear or not.
Related Tags