Apple have asked the Electronic Product Environmental Assessment Tool (EPEAT) to remove 39 of their products from its group's list. EPEAT are one of the largest eco-friendly certifying agencies in the U.S., who are funded by the EPA and a coalition of manufacturers, including Apple.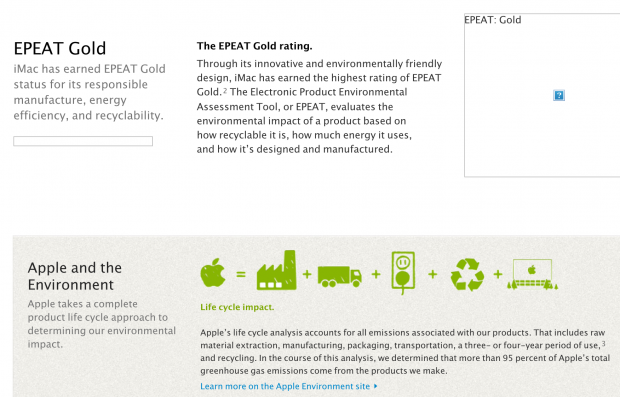 Why are Apple making this move now, considering they've supported EPEAT up until now? Well, in order to gain EPEAT certification, "recyclers need to be able to easily disassemble products, with common tools, to separate toxic components, like batteries", reports John Schectman from the Wall Street Journal.
That is a pretty big restriction for the closed-garden company that is Apple and their products. Considering the new Retina MacBook Pro (rMBP) is virtually impossible to take apart, with the battery glued in, and is pretty much non-serviceable by users. The LCD on the rMBP is glued into the notebook, making it quite difficult to remove. But, Apple are removing all of its products from EPEAT's registry, even their older desktops that were once certified.
Robert Frisbee, CEO of EPEAT told the Journal:
[Apple] said their design direction was no longer consistent with the EPEAT requirements. They were important supporters and we are disappointed that they don't want their products measured by this standard anymore.
This is a big problem. It can put massive customers off, such as governments, schools, universities, and more. The WSJ also reports that most of Apple's biggest customers require EPEAT certification, saying:
Many corporations like Ford, HSBC, and Kaiser Permanente require their CIOs to purchase computers from sources that are EPEAT certified, said Sarah O'Brien director of outreach for EPEAT. And the U.S. government requires that 95% of the electronics it purchases be EPEAT certified. In 2010, the last year the survey was conducted, 222 out of the 300 American universities with the largest endowments asked their IT departments to give preference to EPEAT certified computers. Around 70 of the schools required EPEAT certification for electronics purchases, according to O'Brien.