Computex 2012 - Our next stop along the Computex Nangang hall path was BitFenix who had its full range of computer cases on display including the new Ghost as well as what we are focusing on right here, the new Prodigy.
The Prodigy is BitFenix's latest case that comes in a range of different colors and supports Mini-ITX motherboards. Obviously seeing the increase in performance Mini-ITX motherboards going onto the market, BitFenix saw a chance to produce a new case model. It's going to make a wicked LAN gaming PC or small gaming PC, that doesn't have to sacrifice moving down to low-end parts due to the high end performance models of things such as video cards and power supplies being too big to fit into small cases.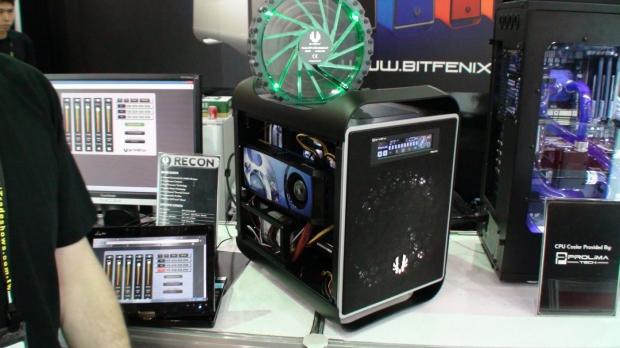 In the video above David from BitFenix also introduced us to the brand new BitFenix Recon which is a fan controller, but by no means your normal fan controller. This is something that BitFenix has been working on for a long time, in fact we even saw early mockups at Computex last year.
[img]2[/img]
This is a touch based controller that fan controller and temperature monitoring device that plugs into your motherboard. With this connection made, you can login to the device in your web browser and adjust fan speeds and monitor temperatures. And with your router properly configured you can also access the Recon control panel from other computers in and outside of your house.
[img]3[/img]
These are definitely some really cool toys here from BitFenix and we look forward to getting them in for review soon.