Could those words be any more mysterious? Apple CEO Time Cook when questioned about the lack of Facebook integration on iOS, said "Stay tuned". Considering that Facebook have nearly 1 billion users, and Apple's handshake with Twitter and its integration with iOS, we have to wonder, 'why not Facebook?'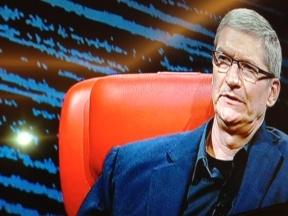 Cook adds "Facebook is a great company, and the relationship is solid. I saw Sheryl (Sandberg) earlier outside. We have great respect for each other."
When Swisher reffered to Jobs calling Facebook "onerous", Cook responded with:
They have their way of doing things, but people say that about us as well. Just because they have a point of view doesn't mean we can't work with each other.
Jobs had previously referred to Facebook term's when negotiating the Ping integration as "onerous", which means "involving a burdensome amount of effort and difficulty". Post-IPO Facebook could be different, knowing that Apple have a considerable amount of power in the industry compared to a few years ago.
Facebook and Apple are pretty much the two powerhouse companies right now, with social networking in one corner, and mobile devices in the other. The only competitors to them would be Google and Microsoft. Considering Microsoft has a stake in Facebook, it'll be interesting to see the integration Apple would receive in the future. After all, Windows 8 is nearly here and I'm looking forward to seeing the level of integration the OS offers when it comes to Facebook.