Windows 8 receives tweaks for multiple monitor, betters user experience
Microsoft is updating Windows 8 to have better support for multiple monitors.
Published Tue, May 22 2012 1:32 PM CDT
|
Updated Tue, Nov 3 2020 12:28 PM CST
Since this is an enthusiast site, I imagine a majority of the readers are running multiple monitor setups. If you are, I'm sure you're aware of some of the difficulties associated with such a setup on previous versions of Windows. Well, Windows 8 isn't just receiving a touch screen UI upgrade; it's also receiving tweaks for multiple monitor setups.
[img]2[/img]
There are several different tweaks that Microsoft is making in the upcoming Windows 8. One of the more minor tweaks is that you will now be able to put different backgrounds onto different monitors as seen in the picture above. Additionally, it will be possible to span a single panoramic picture across multiple monitors.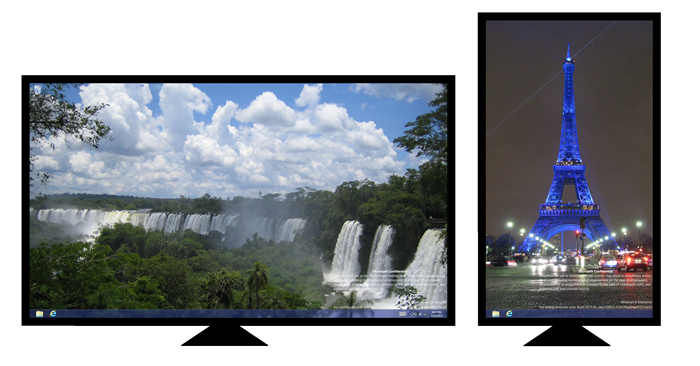 Microsoft has also improved the slideshow function to take advantage of multiple monitors. This is an especially important feature for users who have monitors in different orientations. Some pictures are more suited for a portrait or landscape monitor, so Microsoft has added a piece of logic code to show images on monitors to which they are better suited.
A further option, one that I am particularly excited about, is the addition of the task bar options. The task bar will be visible on all monitors, if the user desires. Additionally, users can select where they would like application icons to show up. Users have the option to show the task bar icon on the main bar, the bar on the monitor where the window is open, or both.
Related Tags