Samsung Galaxy S3 already on sale in Dubai for $667
A store in Dubai has started selling the Samsung Galaxy S III ahead of the May 29 launch date.
Published Tue, May 22 2012 10:32 AM CDT
|
Updated Tue, Nov 3 2020 12:28 PM CST
It's clear that people can't wait to get their hands on the latest Samsung Galaxy device, but they were at least supposed to have to wait until the international launch on May 29. Apparently one store in Dubai didn't want to make people wait, or maybe they just didn't get the embargo memo. Either way, the Samsung Galaxy S III has been put up for sale for $667 in Dubai.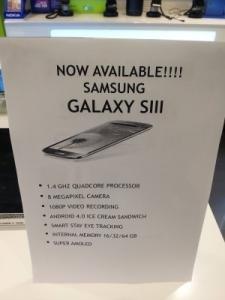 An advertisement, seen above, for the upcoming smartphone was seen in the window at a mall by a Reddit user. Of course, he figured they meant for pre-order, but he decided to inquire anyway. Withing a few minutes of talking with a shop worker, it was revealed that the white Samsung Galaxy S III was in stock and waiting for customers.
It's not clear why the shop decided to start selling the phone before the May 29 date provided by Samsung as the launch, but I don't think anyone who has purchased a phone is going to be returning it to the store so that they can meet the date. I imagine quite a few people are happy about the slip-up as they are the first to have the Samsung Galaxy S III.
Related Tags