YouTube views falling as time spent increases
YouTube's views are falling as engagement increases which is directly according to plan.
Published Mon, May 14 2012 5:32 PM CDT
|
Updated Tue, Nov 3 2020 12:28 PM CST
YouTube is an empire like Google, one that is built on clicks and advertising. However, as of late, clicks have been falling, but YouTube isn't concerned. You see, this is all going perfectly according to plan. YouTube would rather have "engagement" than "views" as it will allow them to garner a more lucrative advertising market.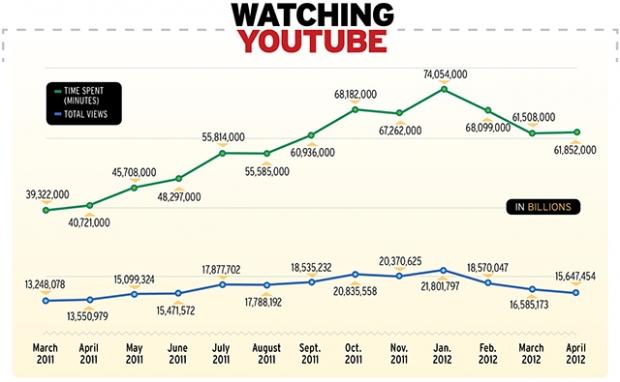 YouTube has invested $100 million in order to create content channels which should aid in getting users to more engagement and fewer clicks. Incidentally, this type of video, the engaging type, is more appealing to advertisers as users who are engaged are thought to be in a more receptive mind-set for brand advertising.
"Our goal is we want users to watch more and click less," said Cristos Goodrow, a former Google search executive who joined YouTube as director of engineering a year ago. "This is better for users because it takes less clicking to get to the video you want to watch." Eli Goodman, media evangelist at ComScore, said, "The effectiveness of advertising is enhanced when someone is in an engaged state."
Additionally, YouTube is struggling with when to show a user an ad. Previously, an ad was shown about every 7 minutes. Now, however, they are changing that to an equation that features hundreds of variables. This equation tries to decide when a user is engaged. At that point is when the ad should be shown. However, some people were worried that some people would never see ads. "There were some internal struggles; some people were concerned that there were people we were never going to show ads to," said YouTube group product manager Phil Farhi
Related Tags