There has been a lot of debate back and forth about whether or not Ivy Bridge's "slight" heat problem is caused by Intel's choice to not use solder to attach the IHS to the core. Originally, people were blaming the higher density of the transistors, due to the 22nm process, for the heat issue. Then, someone decided to de-lid the chip and found TIM instead of solder.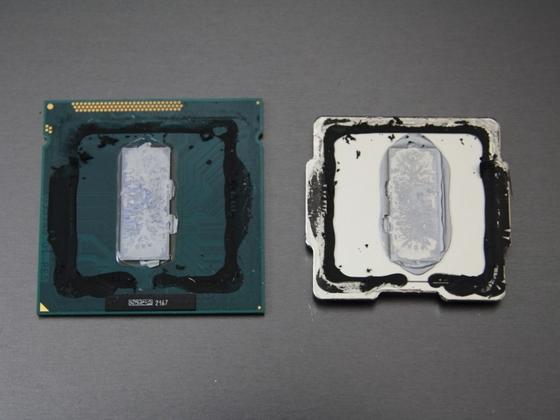 First, let me recommend you not remove the IHS from your chip as it could damage your chip, not to mention it voids your warranty. Besides, someone else has already done it for you along with the testing needed to prove that the heat issue is due to the TIM used by Intel. Impress PC Watch wiped off Intel's TIM and replaced it with OCZ's Freeze Extreme and Coollaboratory's Liquid Pro to see the difference.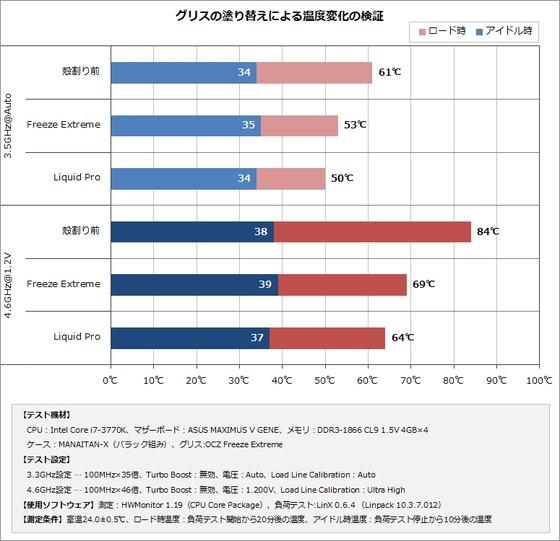 The results? As you can expect from the title of this news post, the TIM choice that Intel made did in fact yield higher temperatures. Load temperatures at stock settings results in an 8*C and 11*C drop in temperatures which is a pretty big change. Overclocking the chip to 4.6GHz resulted in even bigger differences: 15*C for the OCZ TIM and 20*C for the Coollaboratory TIM.
True, these also used a massive air cooler, but the results should be similar with any air cooler, just higher temps for all tests. Intel really dropped the ball here as these aren't low-end CPUs, these are unlocked, overclocking beasts. It would have been a marginal cost for a huge benefit. It could be, however, Intel did this on purpose to sell more Sandy-E CPUs.