Fractal Design's new fan controller, the Adjust 108, is launched, looks awesome
Fractal Design launches the new Adjust 108 fan controller, looks great, has innovative features.
Published Thu, May 10 2012 10:32 AM CDT
|
Updated Tue, Nov 3 2020 12:28 PM CST
Fractal Design always has cool looking products and today's launch of the new Adjust 108 is no different. Fractal Design often uses metal in the products they design and, once again, today's launch is no different. The new Adjust 108 is a fan controller which can manage up to 6 different fans from one 5.25" bay.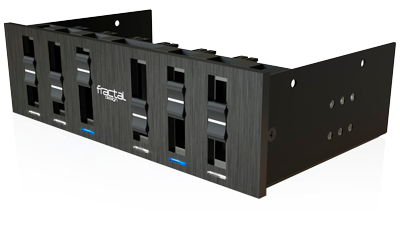 The device has some other unique features that I have never seen on any other device. One of the coolest and most useful features is that it features a jumper to change the intensity of the LED. This is something that I have often wanted on many cases and other devices, so for it to finally be included on something is awesome.
The device can also give you more information in a glance than other devices through its use of dual-colored LEDs. If the LED below a fan slider is white, it means the fan is operating at a low RPM. If the LED is blue, then it means that the fan is operating at a high RPM. Of course, the device is clad in brushed aluminium to give it a clean, simplistic look.
Key features

Stylish, minimalistic front in aluminum

6 channels

One LED per channel

Intensity jumper for the LEDs

Uses only one 5.25" bay

The new Adjust 108 fan controller from Fractal Design offers a simple yet clean option to adjust the speed of your case fans. With a brushed aluminum front panel and smooth moving sliders, it does not only emanate quality but also robustness and preciseness.

The Adjust 108 Fan Controller manages a total of six fans with a maximum of 36W per channel, while grouped three by three for ease of use. With a bi-color LED beneath each of the six sliders, the controller shows the speed of the fan not only by the slider itself but also through the color of the LED; white indicates a low RPM and blue a high RPM.
Related Tags