LeakedTT: Nintendo Wii U launch title list
LeakedTT: Nintendo Wii U launch titles, 25 games and 2 consoles are set to arrive at launch.

Published Tue, May 8 2012 12:14 AM CDT
|
Updated Tue, Nov 3 2020 12:28 PM CST
A very naughty Blockbuster UK employee has leaked out a screenshot that shows off the Nintendo Wii U launch title list. The screenshot is from the Blockbuster UK stock system search screen, where it shows a list of 25 games and 2 consoles when searching for the "WiiU" in their systems.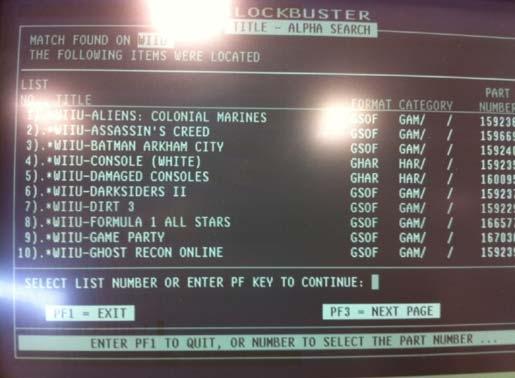 The full list of "launch titles" according to GoNintendo.com are:
Aliens: Colonial Marines

Assassin's Creed

Batman: Arkham City

Darksiders II

Dirt 3

Formula 1 All Stars

Game Party

Ghost Recon Online

Just Dance 4

Killer Freaks from Outer Space

Marvel Super Heroes

Metro: Last Light

Monsters Party

New Super Mario Brothers Mii

Ninja Gaiden 3

Pikmin

Rabbids Party Land

Raving Rabbids

Rayman Legends

Shield Pose

Splinter Cell 6

Sports Connection

Tekken

Your Shape 2013

Zombie
Some of these titles have already been announced, with the full list expected to be announced during E3 in Los Angeles next month. We will be there, and will be reporting from the event as it happens. Until then, this list is a 'leak', and not confirmed.
On another note, Nintendo will have to smash this one out of the park, considering they had their first loss in 25 years. The Wii was super-successful at launch, but hasn't really had any killer apps like the other consoles have enjoyed. This list does look good though, and if that new whiz bang controller is as good as Nintendo are making it out to be, we should be in for quite the treat!
Related Tags