Android adoption rates slowing, less than 3% of phones run ICS
Ice Cream Sandwich makes up a small portion of Android devices that connect to Google Play.
Published Tue, May 1 2012 10:32 AM CDT
|
Updated Tue, Nov 3 2020 12:28 PM CST
Most Android phones, it would seem, are not running the latest and greatest Ice Cream Sandwich version of Android. Google recently released some very detailed data about the Android landscape, which included percents of phone OSs that checked into Google Play over a 14 day period. Some of the numbers are surprising.

63.7% of the phones that checked into (used) Google Play over the 14 day period were based on the outdated, yet still functional Gingerbread (Android 2.3). Only 2.9% were running the latest and greatest Ice Cream Sandwich. The adoption rate of the latest upgrade has been slow, to say the least. But why? After all, 850,000 devices were activated per day in February.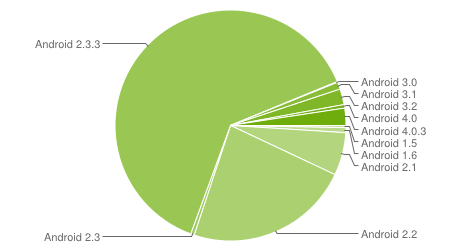 Each time a new version of Android was released (historically), the adoption rate slowed. It took 2.1 a month to reach 25% of Android devices. It took 2.2 three times as long (three months) to reach the same point. It took a whopping 6 months for Gingerbread (2.3) to reach the same point. Part of this is due to the Android market being bigger. More people have to upgrade the software than just have new people buy phones.
Another issue is people are locked into contracts which prevent them, without extra cost, from buying a new phone. With it being almost 2 years since the release of many of these 2.1 and 2.2 phones, I would venture to guess that people will go shopping and the adoption of Ice Cream Sandwich to increase. But that's just a guess.
Related Tags