Those damn college kids are always doing some prank or another, and this time they have done something really cool that isn't destructive! The kids over at MIT, one of the leading technology colleges in the United States, have turned an entire building's windows into a playable Tetris game with different colors and difficulty levels!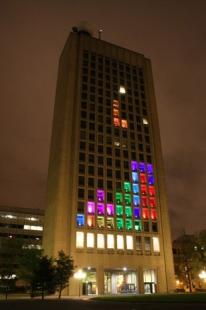 Was this some mischievousness plan to take over the college or just some work of public art? The building in question is the Earth and Planetary Science departments' building. It has long been the target of many of MIT students' pranks. The grid layout of the windows made this building the best choice for this particular prank.
The video is pretty awesome. As a fan of Tetris, I'm tempted to see about doing this at my house. Better yet, if I ever get a big corporation in NY, I'm going to specifically design the side of the building as a giant Tetris game. Then everyone will want to come work for me! What are your thoughts? Good prank or no?