Verizon have just announced that they are bringing their 4G LTE network to 27 new markets and expanding service in 44 additional markets come April 19. Once Verizon starts this, 4G LTE will be available in 230 markets across the US.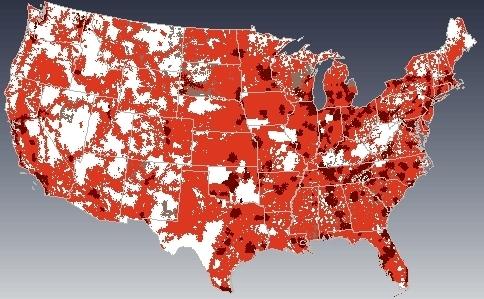 Verizon's 4G LTE service will be made to more than 66-percent of America's population, and by the end of 2012 Verizon hopes to offer its service in over 400 markets, covering 260 million Americans. If you're ready for a mouthful of cities that will receive either new, or an expanded service, get ready:
On Thursday, Verizon will introduce 4G LTE service in Auburn and Tuscaloosa, Ala.; Pine Bluff, Siloam Springs and Van Buren, Ark.; Visalia/Porterville, Calif.; Fort Walton Beach and Ocala, Fla.; Brunswick, LaGrange and Macon/Warner Robins, Ga.; Peoria, Ill.; Kokomo/Logansport and Marion, Ind.; Dodge City, Garden City, Great Bend and Hays, Kan.; Salisbury, Md.; Cattaraugus/Allegany, N.Y.; Sandusky, Ohio; Ardmore and Ponca City, Okla.; Salem/Albany/Corvallis, Ore.; Pierre, S.D.; and Big Springs and Tyler, Texas.
Expansions will take place in Phoenix and Tucson, Ariz.; Bakersfield, Fresno, Modesto, Sacramento, Salinas/Monterey, San Diego, San Francisco, San Luis Obispo and Stockton, Calif.; Colorado Springs and Fort Collins/Loveland, Colo.; Sarasota/Bradenton, Fla.; Boise/Nampa, Idaho; Carbondale/Marion and Rockford, Ill.; Fort Wayne and Indianapolis, Ind.; Des Moines, Iowa; Boston and Worcester, Mass.; Detroit, Mich.; St. Louis, Mo.; Las Vegas and Reno, Nev.; Manchester/Nashua, N.H.; Albuquerque and Santa Fe, N.M.; Buffalo/Niagara Falls and New York, N.Y.; Akron, Cleveland and Columbus, Ohio; Oklahoma City and Tulsa, Okla.; Portland, Ore.; Providence/Pawtucket, R.I.; Nashville, Tenn.; El Paso, Texas; Provo/Orem and Salt Lake City/Ogden, Utah; and Olympia/Centralia and Spokane, Wash.